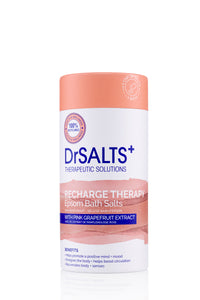 Dr Salts+ Recharge Therapy Epsom Bath Salts 750g
Dr SALTS+ Recharge Therapy Bath Salts
combine pure high-grade magnesium Epsom Salts with uplifting natural Pink Grapefruit essential oil to elevate and energise mind and body. The perfect recovery after a hard day, relax and unwind with our invigorating magnesium Epsom Salts. Expertly blended to help recharge and promote positivity and happiness.
+ Helps promote a positive mind + mood
+ Natural Pink Grapefruit essential oil creates an uplifting scent to promote positive mind and mood
+ Increases moisture retention and hydrates skin
+ Rejuvenates body + senses
+ Calms and relaxes the mind and body
The new and improved packaging is 100% recyclable and made from recycled materials. Our formulations are also 100% vegan friendly.
100% Pure Mineral Salts. 100% Natural Essential Oils.