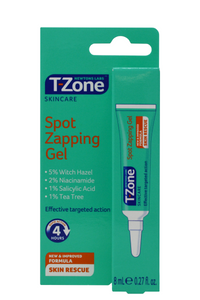 T-Zone Spot Zapping Gel 8ml
Newtons Lab T-Zone Skincare Spot Zapping Gel rapidly targets, prevents and calms spots and blemishes.
This cooling and quick-drying gel combines naturally acne-fighting Tea Tree and Witch Hazel with skin clearing Salicylic Acid to help promote great looking skin.
Newtons Labs T-Zone Skincare Spot Zapping Gel has been specially formulated to:
Offer fast targeted action
Help combat the causes of spots and blackheads
Promote healthy looking skin
Also available from selected New World & Pak N Save supermarkets, Farmers Department Stores and pharmacies nationwide.