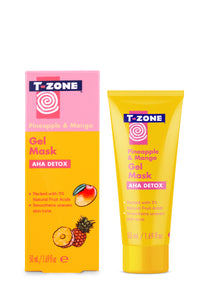 T-Zone Pineapple & Mango Gel Mask 50ml
T-ZONE Pineapple & Mango AHA Detox gel mask is formulated with 3 % Natural Alpha Hydroxy Acid (AHA) cocktail (special blend of Bilberry, Sugar Cane, Orange, Lemon, and Sugar Maple). Boosted with natural goodness of Pineapple and Mango, this unique gel formula gently exfoliates and detoxifies skin thus smoothening skin texture and improving moisturization.
Natural fruit acid (AHA) rich yellow gel mask reveals pure, smooth looking skin glowing with renewed radiance.
T-ZONE Pineapple & Mang AHA Detox gel mask has been specially formulated to:
Unique gel mask-playful texture
Packed with 3% Natural Fruit Acids
Smoothens uneven skin tone
Cruelty Free