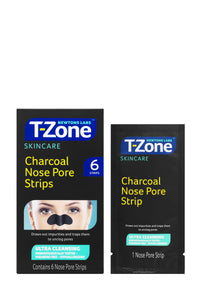 T-Zone Charcoal Nose Pore Strips (6)
Newtons Labs T-Zone Skincare Charcoal Nose Pore Strips with activated charcoal and Tea Tree unclog pores and draw out impurities and excess oil.
Enriched with acne-fighting Tea Tree, they help prevent spots and keep skin clear, while Charcoal acts like a magnet to draw out impurities and excess oil.
Specially shaped for use over the bridge of the nose.
The Charcoal Nose Pore Strips have been specially formulated to:
Draw out dirt and excess oil
Help remove spot-causing impurities
Unclog pores to help skin breathe
Also available from Countdown, New World & Pak N Save supermarkets, Farmers Dept Stores and pharmacies nationwide.