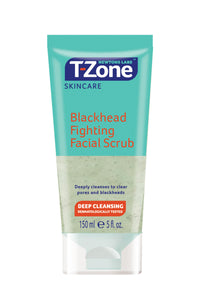 T-Zone Blackhead Fighting Facial Scrub 150ml
Newtons Labs T-Zone Skincare Blackhead Fighting Facial Scrub with Tea Tree cleanses deeply into pores and helps clear spots. 
Gentle microbeads unblock and visibly leave the skin fresh and radiant from day one, while Tea Tree tackles spots head on.
Specially formulated to:
Unblock pores and help remove blackheads
Gently remove the dead skin cells that can block pores and lead to spots
Leave the skin clean and healthy-looking
FREE FROM PLASTIC MICROBEADS
Also available from selected New World & Pak N Save supermarkets, Farmers Department Stores and pharmacies nationwide.