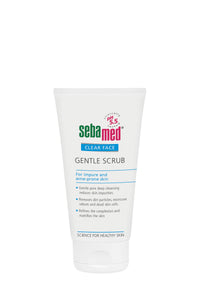 Sebamed Clear Face Gentle Scrub 150ml
Sebamed Clear Face Gentle Scrub gently cleanses the skin whilst removing dirt particles and excess sebum. This scrub contains gentle micro-peeling particles that remove dead skin cells and help refine the skin's complexion.
Deep pore cleansing with a mattifying effect.
Helps to remove dead skin & refine complexion as well as reduce skin blemishes.
Perfect for acne-prone skin
The pH 5.5 promotes the natural barrier function of the skin's acid mantle.

Dermatologically & Clinically tested