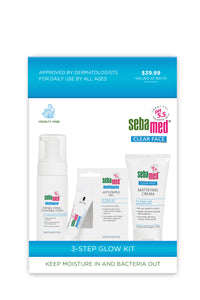 Sebamed Clear Face 3 Step Glow Kit
Achieve the ultimate glow in 3 easy steps! The special multi-step program for effective control of blackheads and pimples gently cleanses the skin deep into the pores. 
Contains:
Clear Face Cleansing Foam - that efficiently & gently removes oils during deep-pore cleansing.

Anti-Pimple Gel - for fast relief from pimples, it contains antibacterial gel that reduces irritation and dries pimples out.
Mattifying Cream - improving the skin's appearance by reducing the oily shine and controlling sebum production in oily areas of the face.

The pH 5.5 promotes the natural barrier function of the skin's acid mantle.

Dermatologically & Clinically tested