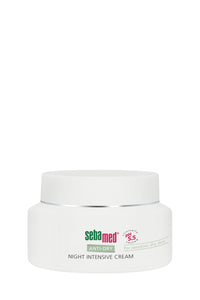 Sebamed Anti-Dry Night Cream 50ml
The Sebamed Anti-Dry Night Intensive Cream deeply soothes your skin, alleviating dryness that may have affected your facial skin during the day. Protect your skin with a night moisturizer that rejuvenates you from the strain of the day. Our Anti-Dry Night Intensive Cream supports your skin's natural barrier, helping it to heal itself while you sleep. Explore our full Anti-Dry collection and get a total skin care routine that's especially designed to nourish dry skin.
Helps soothe sensitive, dry & irritated skin

Nourishing complex with Jojoba oil helps to improve the skin's elasticity 
The pH 5.5 promotes the natural barrier function of the skin's acid mantle.

Dermatologically & Clinically tested