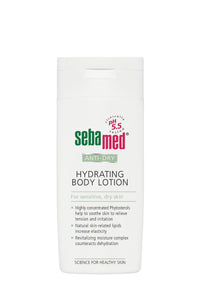 Sebamed Anti-Dry Body Lotion 200ml
The Sebamed Anti-Dry Hydrating Body Lotion is made with nourishing ingredients to help relieve dry skin. Dry skin often prompts heightened skin sensitivity and even conditions, such as psoriasis and eczema, so keeping it hydrated is important. Our non-greasy Anti-Dry Hydrating Body Lotion intensely moisturizes your skin, protecting and healing it from dryness. Use it after every shower to lock in moisture and prevent your skin from losing hydration.
Boosts hydration 

Increases elasticity

Suitable for dry & sensitive skin
The pH 5.5 promotes the natural barrier function of the skin's acid mantle.

Dermatologically & Clinically tested