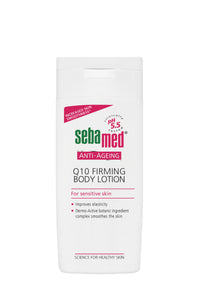 Sebamed Anti-Ageing Q10 Firming Body Lotion 200ml
Seabmed Anti-Ageing Firming Body Lotion combines the natural strength of argan oil & shea butter to protect and improve the skin elasticity. Q10 is the skin's natural, active ingredient, which decreases from the age of 30. The ingredients of Sebamed Anti-Ageing Q10 activate the energy production of skin cells and help to maintain skin's smoothness and elasticity. Regularly used, the cream protects against premature skin ageing.

Helps safeguard against premature ageing & dryness
Improves elasticity & hydration 
Suitable for sensitive skin 
The pH 5.5 promotes the natural barrier function of the skin's acid mantle.

Dermatologically & Clinically tested