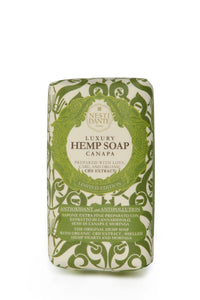 Nesti Dante Luxury Hemp Soap 250g
NESTI DANTE has been preparing top quality natural soaps with love and care since 1947, giving every soap the best ingredients and total attention to every detail.
The Luxury HEMP Soap has been formulated with precious organic CBD extract, natural HEMP HEARTS and MORINGA.
The restorative, skin-friendly properties of hemp hearts nourish and  moisturise even the most sensitive of skins in a gentle way thanks to unsaturated fatty acids (approx. 80%), which are particularly nourishing for the skin. They prevent excessive moisture loss, protect the skin from drying out and chapping, and can help restore the skin's lipids.