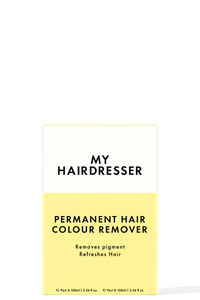 My Hairdresser Permanent Hair Colour Remover
My Hairdresser Permanent Hair Colour Remover safely removes Permanent Hair Colour, taking your colour back to its previous glory. It contains no bleach and only take 20 minutes to break the links that hold the Permanent Hair Colour together inside your hair, which you then simply wash out. It will leave your hair feeling healthy, conditioned and refreshed and ready for your next adventure.
Colour Remover will only remove Permanent Hair Colour. It does not work on Semi Permanent Colour, Henna or Metallic Salts, or if you are using Colour Lock or Colour Protection products.

It will only remove darker Permanent Hair Colour. For example: You are naturally a #6 Dark Blonde and you have been colouring your hair with a #3 Dark Brown. The Colour Remover will remove the #3 Dark Brown from your hair, returning you to your Natural Dark Blonde, with some added warmth. 

If you are naturally a #7 Medium Blonde and you have been using stronger developers to lighten your hair to a level #9 Extra Light Blonde, Colour Remover will not be useful as you have lightened and lifted your hair to a lighter shade. If you want to go darker, or back to your natural colour, you can do this by colouring your hair with a low level developer to reach your desired colour. 

It will not remove natural grey's.
How My Hairdresser Colour Remover Works
Colour Remover Frequently Asked Questions
Also available from selected pharmacies and hair salons nationwide.  Phone 0508 734 466 for queries and support on the My Hairdresser range.
Also known as MYHD.
Box contains 1 application (Part A 100ml, Part B 100ml) and disposable gloves.