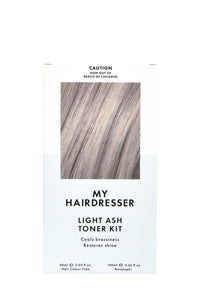 My Hairdresser Light Ash Toner Kit
Designed to remove all the yellow and orange, also known as brassy or warm, tones that occur in blonde hair or after colour removing. 
Kit Contains:
1 x 9.1 Permanent Colour

1 x No Lift Developer

1 x Applicator Bottle

1 x Protective Gloves
How To Use My Hairdresser Toner Kit
Check out this great article on Why Is My Hair Colour Brassy?
Also available from selected pharmacies and hair salons nationwide.  Phone 0508 734 466 for queries and support on the My Hairdresser range.
Also known as MYHD.