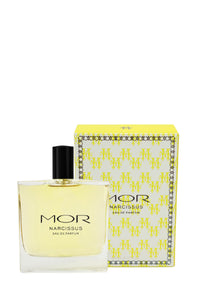 MOR Narcissus Eau De Parfum 50ml
Introducing a playful and modern take on MOR's original Flower of Narcissus fragrance!
Fresh, uplifting and endlessly captivating, this charming and lively floral perfume captures the warmth and fragrance of a gentle spring breeze.
Zesty top notes of Mandarin, Grapefruit and Cassis intermingle with the delightful sweetness of Jasmine and Narcissus, while soft and smooth Amber and Musk give the fragrance depth and sophistication.