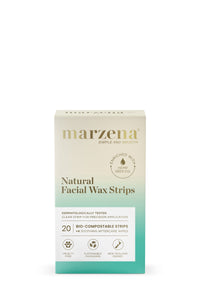 Marzena Natural Facial Wax Strips with Hemp Oil (20 strips)
Our new generation natural wax formula is made from sustainably sourced pine tree resin and does not compromise on results. It will grip those stubborn short hairs (2mm), is fragrance and colour free, and is enriched with hemp seed oil to help calm your skin during the treatment.


Our strips are made from 100% bio-compostable cellophane. The box is 100% recyclable, and is made from sustainably sourced materials.

These strips remove hair from the root, leaving the skin hair free for up to 4 weeks. Hair will grow back thinner and fewer with regular use.

Each strip can be used up to 5 times, by folding the strip in half, gently re-warming between your hands, then slowly peeling back apart. Continue using each strip until no longer effective.
Enriched with hemp seed oil.  Dermatologically tested.  Cruelty-free.  
Sustainable packaging.  NZ owned.