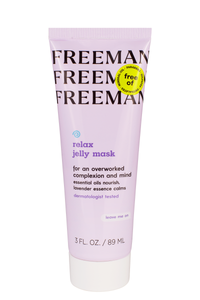 Freeman Relax Jelly Mask 89ml Tube
Meet the Freeman relax mask. When you're feeling overworked and stressed, this bouncy jelly mask infused with Lavender essential oils helps to chill out irritated skin from late nights and busy work weeks.
Apply a small amount to clean, dry face and gently pat until mask melts into skin. Avoid contact with eyes (ouch that would sting!). Leave on for 20 minutes for an instant uplift or overnight for an extra boost and rinse in morning. Use daily or as needed.