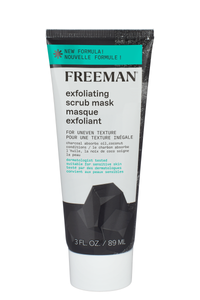 Freeman Exfoliating Scrub Mask 89ml Tube
Say hello to your favorite exfoliator! When your skin is feeling a little dull and tired, this scrub face mask infused with coconut buffs away rough skin, while charcoal helps absorb excess oil and impurities without over drying. This mask will leave your skin feeling velvety smooth so you can get back to doing you.
Apply a small amount to clean, dry face and gently pat until mask melts into skin. Avoid contact with eyes (ouch that would sting!) Leave on for 5-10 minutes and rinse with warm water. Use as often as needed.