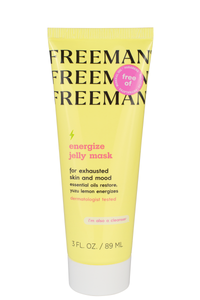 Freeman Energize Jelly Mask 89ml Tube
Rise and shine! This dual-action jelly mask and cleanser infused with Yuzu Lemon essential oils helps to energize and restore the skin barrier for a perfect wake up call. Perfect for normal, dry, sensitive, and dull skin!
To use as a mask - apply a small amount to clean, dry face and gently pat until mask melts into skin. Leave on for 10 minutes for an instant uplift. To use as a cleanser - apply a small amount to clean, damp skin and gently massage to activate the milky cleanser and help remove dirt and impurities. Avoid contact with eyes. Rinse off with warm water. Use daily or as needed.