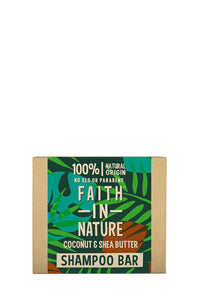 Faith in Nature Coconut & Shea Shampoo Bar 85g
Established in 1974, we believe in harnessing  the power of nature without harming it in the process. Hand made and vegan, our shampoo bar is perfect for anyone wanting to be as kind to the planet as they are to their hair. And because it's a solid bar, it's ideal for travelling. This luxurious coconut & shea butter shampoo bar will help to leave your hair feeling soft and hydrated.
Vegan friendly
Cruelty free
Recyclable packaging
100%

 

natural

 

fragrance
No parabens or SLS
100% natural origin
What is a shampoo bar?
Shampoo bars are essentially liquid shampoo in a solid bar form. The process for making a shampoo bar is the same as making soap but are soap free. Our shampoo bars are concentrated and specially formulated with additional ingredients to nourish the hair.
Is there an adjustment period if I go from using a liquid shampoo to a solid shampoo?
Shampoo bars do not contain artificial ingredients or silicones that smooth the hair. It can take up to 6 washes, on average, for your hair to fully adjust to a shampoo bar and fully remove the silicones deposited by commercial liquid shampoos. The scalp may over produce oil in this adjustment period if you have previously used harsher shampoos but will soon get back to normal.
How many uses can I get out of the bar?
Depending on hair length and type, shampoo bars can get the same number of uses as our 400 ml bottle on average. We found this to be an average of approximately 50 washes.
What is the pH balance of a shampoo bar?
Our shampoo bars are balanced at a pH of 5-6 to ensure that they don't disrupt the natural pH levels of the scalp and hair.
What is the difference between a shampoo bar and a soap bar?
Soaps are made from fats and oils and tend to have a much higher pH (approximately 10), this can result in it being very harsh on your hair. Shampoo bars are concentrated, soap free, made from solid cleansing ingredients and have a lower pH which is like the natural pH of hair.
Do shampoo bars lather?
Yes, shampoo bars lather as they contain many of the ingredients of regular shampoo, they contain much less water but perform similarly to our liquid variants.
How do I use this shampoo bar?
Lather the shampoo bar between your hands and gently massage the foam into wet hair. Wash and rinse thoroughly with water until hair is clean
Where can I store the shampoo bar?
In a cool, dry environment, do not leave on a wet surface and allow the bar to completely dry in between uses.
Can I travel with a shampoo bar?
Yes of course you can! As it isn't subject to 100ml allowance (for liquids), you can take this instead of a liquid product.
Do I need to condition my hair afterwards?
This is personal preference, you can condition your hair as you feel necessary.
Does your shampoo bar contain palm oil?
Our shampoo bar contains RSPO certified sustainable palm oil.